Running out of space for your bikes?  have you tried hanging them?
I've now using cycle hangers  which save a lot of space, where I used to put 3 bikes I can now hang 6 in the same floor space.
By staggering heights of the hangers to allow the handlebars not to over lap,  the bikes can be put closer together.
These bike hangers can be purchased from  the Cycleststore:  Bike hanger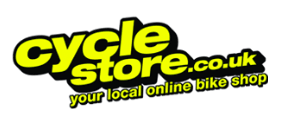 Product Details
A single bike storage solution that fixes directly to the wall
Foam covered arm adds protection whilst the bike hangs by the front or rear wheel in a vertical position.
Solid steel back plate prevents tyre and scuff marks on the wall.
Powder coated black finish is tough and resists scratches.
Heavy duty hardware is included for fast and secure installation; simply bolt the rack to the wall and hang your bike up.
50 lbs / 22.68 kg maximum capacity.
Installed dimensions are 11.5inches / 29.21 cm high 3 inches / 7.62 cm wide and 4.5 inches / 11.43 cm deep.